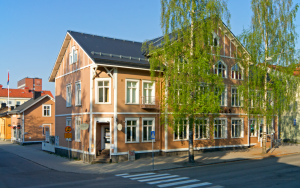 The Umeå Temperance Building opened in 1901 and has since then offered meeting and function facilities for all kinds of organisations, companies and individuals. We provide offices to a number of political parties and organisations within the Temperance movement.
Currently, we have three rooms that are let for shorter periods (daily/hourly). The largest room accommodates up to 80 people.
We want everyone to feel welcome – thus, the entire building has a drug-free policy. Consequently, neither use, provision nor storage of alcohol beverages or other drugs is allowed. Smoking is allowed only in a designated area outside. Further, our tenants should acknowledge democratic and human rights.
For enquiries, please contact us, or go directly to the booking page (and choose English language).